What's best in Naxotop's JavaScript Video Editor?
Discover the power of Naxotop's exceptional JavaScript Video Editor. Developed by a highly experienced team of developers, this online video editor in JavaScript and PHP combines the versatility of JavaScript and PHP to deliver an outstanding editing experience. It has unique features and is the pinnacle of video editing in JavaScript and PHP. From seamless transitions to precise timeline control, this open-source script offers a free demo to explore its capabilities before purchasing. Experience the best JavaScript Video Editor in JavaScript and PHP available on the internet with Naxotop.
Explore the Features of Naxotop's JavaScript Video Editor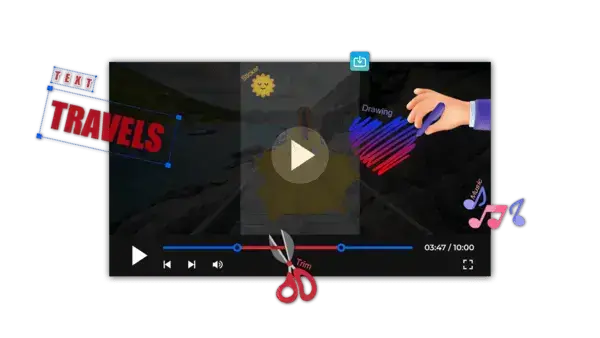 As a leading Video Editor in JavaScript, Naxotop offers a comprehensive set of tools and features that empower you to create professional-quality videos effortlessly. Let's explore what sets our JavaScript Video Editor apart:
Intuitive User Interface: Our JavaScript Video Editor provides a user-friendly interface
Powerful Editing Capabilities: With our Video Editor in JavaScript, you can perform various editing tasks such as splitting videos, adding music, inserting text, and more.
Multi-Video Support: Easily combine multiple videos using our JavaScript Video Editor to create engaging and dynamic compositions.
Creative Enhancements: Make your videos visually stunning by incorporating stickers, clip art, and logos using our Video Editor in JavaScript.
Customization Options: Our JavaScript Video Editor allows you to personalize your videos by adjusting font, size, color, and position of text elements.
Seamless Playback Control: Review and refine your edits easily using our JavaScript Video Editor's play/stop video feature.
High-Definition Export: Share your videos in stunning quality with our JavaScript Video Editor's ability to export in HD resolution.
Developer-Friendly: As an open-source script, our Video Editor in JavaScript allows developers to customize and extend its functionality.
With Naxotop Video Editor, you can unlock the full potential of JavaScript Video Editing and bring your creative vision to life. Whether you are a professional videographer, a content creator, or an aspiring filmmaker, our Video Editor in JavaScript caters to your diverse needs. Experience the power and versatility of Naxotop Video Editor today!
Ready to embark on your video editing journey? Contact us now to explore the extensive features of our JavaScript Video Editor and elevate your video editing game to new heights.
Asked Question
Most Asked Questions
How to get Naxotop JavaScript Video Editor?
Acquiring Naxotop Video Editor is a breeze. Follow these simple steps to embark on your video editing journey:
Visit our official website at https://naxotop.com/ and navigate to the product page for our cutting-edge JavaScript Video Editor. Immerse yourself in a wealth of information about our remarkable offering.
Engage with the live demo, allowing you to experience firsthand the features that make Naxotop Video Editor a standout Video Editor in JavaScript. Witness its power and potential in action.
Connect with us effortlessly through various channels such as Skype, Email, Whatsapp, or the convenient Naxotop contact form. Our dedicated team awaits your inquiry, ready to assist you in acquiring this professional web-based video editor.
Upon confirming your order, we will promptly provide you with the payment and download links. Rest assured; your seamless acquisition is our priority.
Embrace the limitless possibilities of Naxotop Video Editor and embark on a journey of creating astounding videos online. Unleash your creativity and captivate your audience with ease.
Simplicity and excellence await as you enter the world of Naxotop Video Editor, the ultimate JavaScript Video Editor.
Q: How can Naxotop Video Editor benefit you?
Unlock the tremendous benefits of Naxotop Video Editor and revolutionize your work or business. Discover how it can enhance your JavaScript Video Editor endeavours:
Seamless Integration: Effortlessly integrate our video editor in JavaScript into your web development projects or website using JavaScript and PHP code. Seamlessly blend its powerful functionalities with your existing framework.
Lucrative SaaS Opportunities: Leverage the potential of Naxotop Video Editor by launching it as a SaaS project on the internet. Monetize your user base and generate revenue by offering your customers this cutting-edge JavaScript Video Editor solution.
High-Definition Creativity: Whether for business or personal use, harness the capabilities of Naxotop Video Editor to create and edit videos online with stunning high-definition quality. Craft visually captivating content that captivates your audience.
Exclusive Ownership: As the proud owner of Naxotop Video Editor, you gain unparalleled control and privacy. Safeguard your intellectual property and enjoy exclusive access to this invaluable editing tool.
Tailored Subscription Plans: Customize subscription plans for your professional Video Editor in JavaScript, allowing you to charge your users accordingly. Design flexible pricing models that align with your business objectives and revenue goals.
Lifetime Access: Unlocking lifetime access to Naxotop Video Editor with a one-time payment. Bid farewell to recurring costs and embrace a cost-effective solution that offers long-term value.
Unrestricted Customization: After purchase, enjoy full access to Naxotop Video Editor and personalize it to suit your unique requirements. Tailor the editor to your preferences and enjoy the freedom to modify it as desired.
Responsive Development Team: Our skilled developers are dedicated to meeting your needs. They are ready to accommodate your requests for video editor changes, ensuring a seamless and tailored experience.
Unleash the potential of Naxotop Video Editor today and witness the remarkable transformation it brings to your JavaScript Video Editor journey.
Q: How to integrate Naxotop Video Editor into my web development projects or website?
Integrating Naxotop Video Editor into your web development projects or website is seamless.
Make a one-time purchase of Naxotop Video Editor.
Receive all the necessary code files.
If you have your website developers:

Provide them with the code files.
Instruct them to integrate the Naxotop JavaScript Video Editor into your website.

If you don't have dedicated website developers:

Contact the skilled Naxotop developers.
Inform them that you need assistance with the integration.
Let them handle the task for you.
At Naxotop, we understand the importance of a seamless integration experience. Whether you choose to involve your developers or rely on our expertise, rest assured that we are here to help you leverage the power of Naxotop Video Editor in your web development projects or website.
Q: How to launch Naxotop Video Editor as a SaaS project on the internet?
To launch Naxotop Video Editor as a SaaS project on the internet, follow these steps:
Download the Naxotop Video Editor script after purchase.
Upload the script to your preferred web server using FTP or any other method.
Set up a database and user management system for your SaaS project using PHP or your preferred method.
Using PHP code, connect the video editor to your database and user management system.
Create a subscription plan and implement a payment system using PayPal or your chosen method.
Promote your SaaS project online and attract users to your exceptional video editing service.
At Naxotop, we strive to make launching Naxotop Video Editor as a SaaS project effortless. With our user-friendly script and comprehensive documentation, you'll be up and running quickly, providing your valued users with a powerful video editing solution.
What programming languages are used in Naxotop's Video Editor?
Naxotop's JavaScript Video Editor is crafted using a blend of cutting-edge technologies to offer a seamless video editing experience. It leverages the power of JavaScript, FFMPEG, PHP, and HTML 5 to create a feature-rich and intuitive online video editing tool.
JavaScript and FFMPEG form the core of this exceptional editor, enabling real-time video manipulation and a wide range of effects and filters. JavaScript, a versatile scripting language, empowers dynamic and interactive web pages, while FFMPEG handles diverse video and audio formats and operations. Together, they ensure a fast and secure editing process.
PHP and HTML 5 are pivotal in managing the user interface and server-side logic. PHP, a popular server-side scripting language, facilitates seamless database communication and generates dynamic web pages. HTML 5, the latest markup language version, defines the structure and content of web pages, ensuring a user-friendly and responsive video editing interface.
Naxotop's Video Editor in JavaScript boasts a well-organized and easily customizable codebase, allowing you to tailor the editor to your requirements. With its remarkable features and benefits, Naxotop is the premier choice among online video editors.
Which is the best one-time payment video editing software?
Many video editors on the market charge a one-time payment, which is desirable to some users but not to all. To get rid of this solution, Naxotop created a fantastic online video editor in Javascript and PHP for all types of users.
That is ideal for both beginner and advanced users. We have some exciting news for you: you can make changes to the video editor at any time. Our expert developers will always be available to you.
Latest Products
We Have Lots of Excellent And High Quality Products.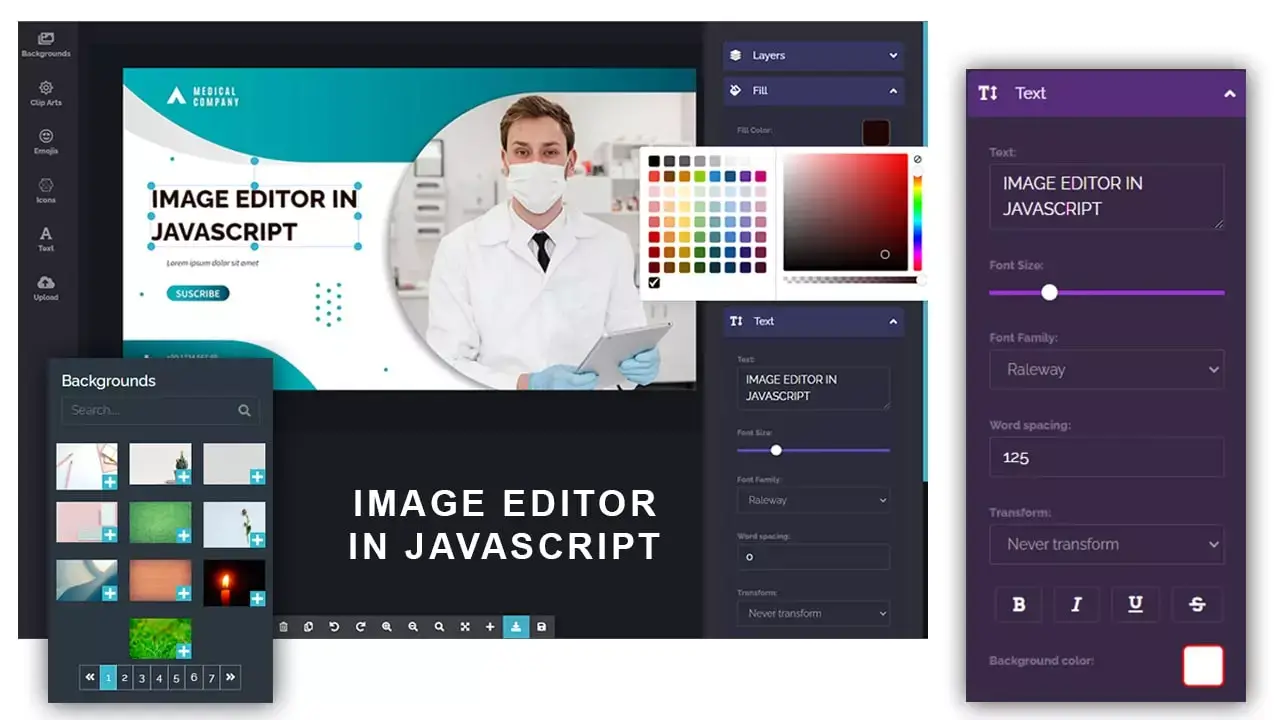 JavaScript Image Editor Script – Naxotop
Experience boundless creativity with Naxotop's JavaScript, PHP, and FFMPEG-powered Image Editor. Perfect for both beginners and experts, our user-friendly interface and seamless integration make stunning visual transformations a breeze. Our dedicated support team is here for you. Elevate your designs today!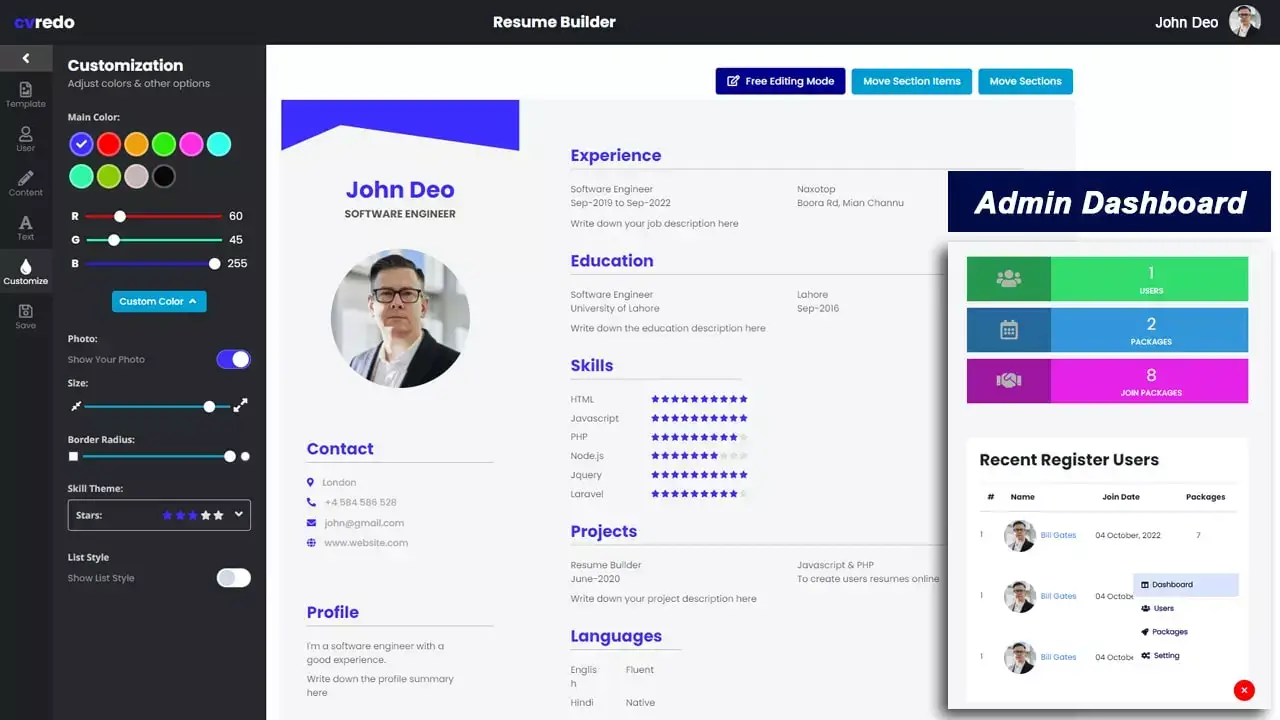 JavaScript & PHP Resume Builder Script
Elevate Your Career with Naxotop's Resume Builder Script! Create customized resumes with ease. Ideal for job seekers, freelancers, and educational institutions. Administer effortlessly via the Admin Dashboard. Perfect for developers, entrepreneurs, and job boards. Boost your resume services or start your platform. Upgrade your career journey with Naxotop!